SAME-SEX BLESSINGS MADE TO LOOK JUST LIKE MARRIAGE, REV JIM GRIFFITHS INTERVIEW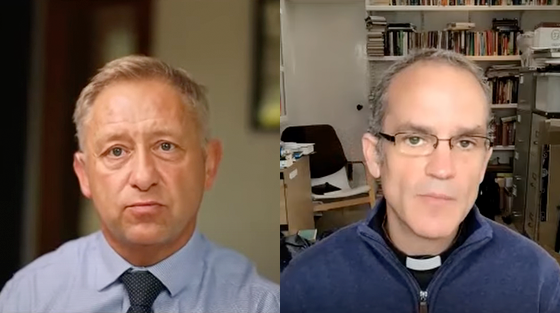 We recently informed you about the Church in Wales' decision to bless same-sex 'marriages'.
I spoke to Rev Jim Griffiths, a prominent evangelical vicar, about what this will mean for him and like-minded Church in Wales members.
Jim explains how the decision also ratifies rites and liturgies, involving "the blessing and exchanging of rings" and even a repetition of "the vows you've used in the civil ceremony". To the casual observer, he goes on, "this is going to look just like marriage".
Although the changes were passed as an "experimental rite" for five years, Jim says that was simply a method to get them agreed. Theologically, the Church now sees same-sex marriage as "a gift from God rather than a sin", signifying God's approval. In reality, Jim says, this will make any "serious discussion" about allowing same-sex 'marriage' a foregone conclusion.
When asked about the argument that this change is in-line with other accepted departures, such as allowing easier divorce and remarriage, Jim argues, "two wrongs don't make a right". The pattern in the Bible of man and woman "simply doesn't change… the same sexual ethic runs throughout the whole of the Bible".
Jim denies accusations of homophobia, saying, "Everyone is loved and unconditionally accepted by the Church… But that does not require the approval of same-sex sexual activity".
On the seemingly overwhelming vote for change, Jim points out, the vote from the house of clergy "was a much closer run thing" as the required 2/3 majority was only marginally reached. He also highlights that the vote still reveals much "concern among the laity".
Worried for those who feel uncomfortable with the change, Jim says, "some people may leave and some clergy may resign" as a result.
Asked how like-minded members should respond, Jim mentions two organisations to contact for support, the Evangelical Fellowship of the Church in Wales and Anglican Essentials, Wales. He concludes by emphasising that, "We should all be prepared to stand firm for what we believe is right".
C4M will indeed stand firm in its vigorous support and promotion of real marriage as the gold-standard in relationships, not only for the Church, but for society as a whole. Thank you for standing with us.