MORE FREE SPEECH WINS FOR MARRIAGE SUPPORTERS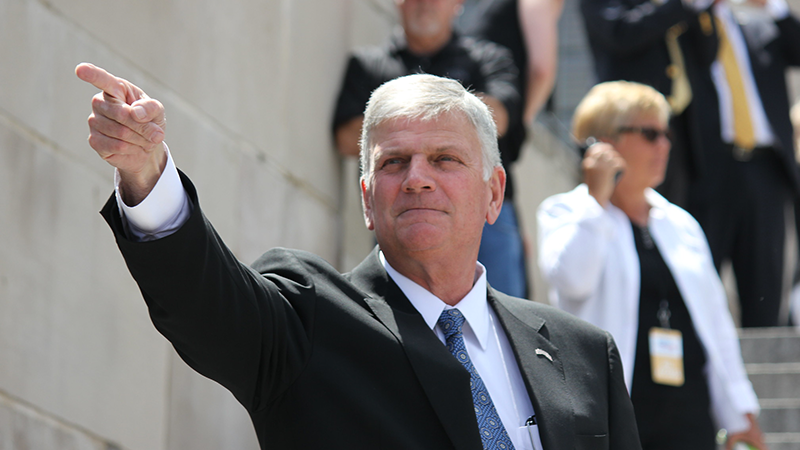 After having rallies cancelled by several UK arenas due to its views on marriage, the Billy Graham Evangelistic Association (BGEA) has successfully settled legal actions against three of the largest venues. The rallies will now go ahead in 2022.
In February 2020 we told you that Franklin Graham, son of the late Billy Graham, was forced to cancel plans for a summer tour after seven venues refused to honour their contracts.
Arenas in Liverpool, Glasgow, Birmingham, Sheffield, Milton Keynes, Newcastle and Newport all caved to LGBT groups, citing Graham's belief that same-sex marriage is "a sin".
But the belief that marriage is between one man and one woman is protected by equality and human rights laws.
The courts have repeatedly ruled it "worthy of respect in a democratic society".
So discriminating against those who hold this view – whether in the workplace or the marketplace – is illegal.
That's why, in April 2020, the BGEA's lawyers won a court case against Blackpool Council for banning bus ads for another event involving Graham. The Council claimed his beliefs on marriage were "extremist". But the Judge said the Council's actions were anti-free speech and "the antithesis of the manner in which a public authority should behave".
The Council had to pay £109K in fees and compensation.
In the BGEA's latest success for freedom of speech, three of the venues have now agreed to host Graham's 2022 summer tour:
– Exhibition Centre Liverpool;
– ICC Wales; and
– Sheffield Arena.
Legal actions in respect of some of the remaining venues are ongoing.
Our freedom to believe in, and talk about, real marriage is protected by law. Let's use that freedom wisely and winsomely to remind people about this great institution.