Halifax staff pronouns row as advert star condemns bank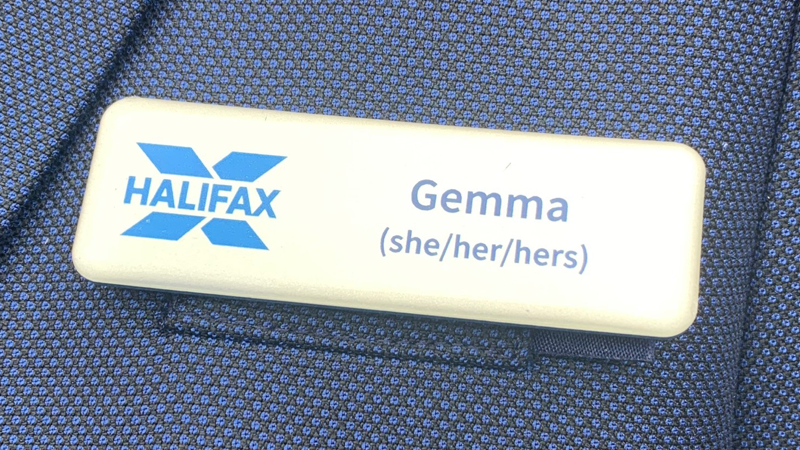 Halifax lost customers and triggered a backlash last week after saying anyone who objected to its new policy of putting pronouns on staff name tags should close their account.
The bank told critics on social media: "We strive for inclusion, equality and, quite simply, in doing what's right. If you disagree with our values, you're welcome to close your account." When some said they would cancel their accounts, the bank supplied details of how to do so.
The pronoun badges, which the bank says are to ensure customers do not refer to staff by the wrong gender, are recommended by LGBT activist group Stonewall but are optional at Halifax.
Critics say they undermine the importance of biological sex and enshrine contentious gender ideology in policies, pushing it constantly in people's faces.
The leader of Diversity & Inclusion for Network Rail's Wales & Western region, Shane Andrews, who was awarded an MBE last year for his role in improving diversity in the rail industry, praised the customer-alienating move as "brilliant". He claimed that creating a more 'inclusive' workplace is a matter of safety, bizarrely arguing that in dangerous jobs like on the railway, people being distracted by awkward personal questions could cause rail accidents.
Others have slammed the move. Doctor Who screenwriter Gareth Roberts (who is gay) said he had banked with Halifax since 1988 but was appalled by the pronoun badges and the response to criticism. "Telling their customers to b***** off if they don't like their highly contentious political stances – that's the Halifax!" he tweeted.
Howard Brown, the cheerful face of Halifax during the 2000s, branded the treatment of customers "disgraceful". Attorney General Suella Braverman criticised the bank's "flippant" response to critics and said she has had enough of the "collective frenzy" that sees the "basics of biology… turned upside down".
It's becoming all too common to see companies putting the promotion of divisive political causes ahead of providing a service that's good value for money and treating customers well.
Asking staff to declare their pronouns is divisive because it signals support for a political agenda that downplays the significance of biology and erases women in particular while undermining their rights. People are right to push back against this disturbing trend, and companies like Halifax should stop telling them to get lost and instead start listening.