Court awards £100,000 to Franklin Graham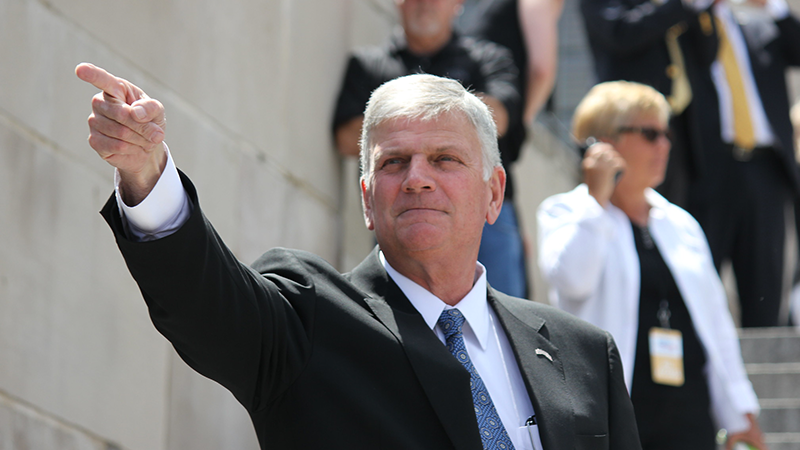 In the UK it is against the law to discriminate against people because they disagree with same-sex marriage. This crucial point has been underlined by the courts once again.
American preacher Franklin Graham was due to appear in Glasgow's Hydro arena in May 2020 as part of a UK tour. But his appearance was axed following pressure from the city council and religious groups over comments they deemed offensive, including about same-sex marriage, which Mr Graham has called "a sin".
Now, the venue has been ordered to pay almost £100,000 in damages after a sheriff ruled it had discriminated against the Billy Graham Evangelistic Association (BGEA), breaching the Equality Act.
Venue staff claimed the move was due to security and protest concerns, but the judge, Sheriff McCormick, found these were not the sole or main reason for the cancellation. They also were not mentioned at a meeting with Glasgow City Council, which was said to have applied pressure to "cancel the booking as it may offend others".
The sheriff said this made the move unlawful as it was "a commercial response to the views of the objector".
This is because: "The pursuer's right to engage a speaker at the evangelical event – in furtherance of a religious or philosophical belief – is protected by law".
In early 2020, arenas in Liverpool, Glasgow, Birmingham, Sheffield, Milton Keynes, Newcastle and Newport all caved to LGBT groups, citing Graham's belief that same-sex marriage is a sin.
But UK courts have repeatedly ruled that the belief that marriage is between one man and one woman is "worthy of respect in a democratic society" and thus protected by equality and human rights laws.
This means discriminating against people because they hold this belief – whether in the workplace or the marketplace – is unlawful.
This is why the BGEA last year successfully settled legal actions against three venues that pulled the plug. It's likely the BGEA will win its remaining cases. At C4M we trust that these repeated legal rulings will mean leaders and administrators will think hard before putting their personal prejudices ahead of treating supporters of traditional marriage with fairness and respect.